ROBERT S. BARNARD, PHD
Doctor Barnard has extensive and diverse Engineering, Management and Leadership experience and is Results Oriented.
Bob earned his PhD in Metallurgy & Materials Science from Case Western Reserve University. His thesis project was on Irradiation Damage Studies of Silicates & Metal Oxides using High-Voltage Transmission Electron Microscopy. His Masters was also earned at CWRU and Bob's research work was on Diffusion Studies in Ceramics using Proton Activation techniques. Bob's BS was earned at WPI in Physics and for his senior project, he investigated "Double Compton Scattering Within the Coherence Length of a Gamma Ray" at the on-campus reactor facility. Bob graduated the EMoT (Executive Management of Technology) program at the Weatherhead School of Management in 1997.
Prior to founding Advanced Materials Solutions Corporation, Bob spent 23 years employed at Reliance Electric / Rockwell Automation. He joined Reliance Electric in 1977 and from 1981 until 1983 he headed up the newly formed Corporate Engineering Group. This afforded him the opportunity to travel overseas and investigate emerging technologies first hand, including a major tour and interaction with the two Japanese steel giants, Nippon and Kawasaki. Throughout his career at Reliance, Bob was actively involved with soft ferromagnetic and permanent magnet materials. In the 1980's, he guided Reliance into taking advantage of the newly emerging technologies of "highly-textured" electrical steels that the Japanese companies had developed and which considerably surpassed the performance of conventional steels with equivalent alloying additions and performed similar to that of the "expensive" high silicon alloyed domestic electrical steels . Electrical Steel has been a major cost factor in the production of most electric motors and both the use of the textured steels and the leverage that was applied to domestic manufacturers allowed a major cost savings to that corporation for many years to follow. Bob also headed up the Corporate-wide Electrical Steels Task Force that involved all segments of the business that were dependent upon electrical steels and included North American Transformer and Kato Engineering.
Bob has had a varied engineering background during his years at Reliance interacting directly with parent corporate groups at Exxon and later, Rockwell. Materials issues have ranged from those in microelectronics to ferrous and non-ferrous foundry metallurgy. Bob worked closely with Manufacturing and was an active participant of the Corporate Manufacturing Council. A short overview is presented below:
ELECTRONICS - Electronic Packaging Technology

| | |
| --- | --- |
| | Developed the Surface Mount Standards for the Corporation. Played a key role in choice of processing technology incorporated at the manufacturing facilities. |
| | High-Power Density Packaging for Drives (Inverters) & Telecommunications (DC-DC power modules) including Direct Die-Attach and Heavy/Fine Wire Bonding. |
| | Metal Core Substrates (MCS) - worked closely with and assisted vendors to develop the proper Thermally Conductive, Electrically Insulating Substrate to meet/exceed specifications. Interacted with the engineering departments of MCS vendors and inspected various production sites both domestically and in Japan. MCS suppliers visited included: Denka, Nippon Rika, Furakawa, Mitsui Toatso, Bergquist, etc. Interfaced with UL to ensure that the substrate material met regulatory agency requirements for the intended use. |
| | Designed and put into operation a quick-turn-around limited production Hybrid facility. Typical multi-layer circuits were turned around in just two weeks (from schematics to limited production lots for evaluation and field testing) in contrast to outside vendors with up to 4 months turn-around time. |
| | Actively involved in Sensor technology and their corresponding application opportunities. |

ELECTROMAGNETICS - Electrical Steels

Electrical Steels

| | |
| --- | --- |
| | Bob recognized early on that something had to be done with reducing the costs associated with the Electro-Magnetic circuit of motors. He first developed an accurate Electrical Steel test platform for property evaluations of Electrical Steels and then had the manufacturing plants do likewise (1977). He then introduced digital measuring equipment at the motor test floor to allow consistent repetitive measurements with much reduced error then that which was previously achieved. This then set the groundwork for accurately evaluating the effect of the Electrical Steels. He teamed up with Corporate Purchasing to ensure the "biggest bang for the buck" on Electrical Steel purchases. |
| | Corp. Electrical Steels task force leader - Reliance was a major consumer of Electrical Steels for both motors and Large Transformers - The task force met on a regular basis and helped to ensure that the right electrical steel was purchased that was to be incorporated within the product. Design Engineers had the opportunity to be updated as to what Electrical Steels were available for the product lines and what their relative costs (on a per pound basis) were. |

CVD Siliconization and other technologies were successfully developed (patent issued) to modify low-cost steel and make it extremely competitive with high-performance electrical steels, both in performance and cost. The CVD project was considered in FY1999 as the most important project for Rockwell Automation's Motor Group.

Analyzed various "opportunities" to partner in various ventures including off-shore permanent magnet technology

Ferrite evaluations

DIE-CASTING

| | |
| --- | --- |
| | Engineering Lead for aluminum die-casting improvements for the Motor Group. Developed a unique low-conductivity aluminum alloy that was thermally stable for high-slip rotor applications (most low-conductivity aluminum alloys age and do not retain their initial low-conductivity). |
| | Operated small foundry and successfully developed various die-casting technologies including Vacuum Die-Casting of the induction squirrel cage of A-C rotors with both aluminum as well as copper (aluminum-bronze) alloys. |
| | Assisted both vendors and in-plant manufacturing to reduce/eliminate porosity from die-cast products. |

POWDER METALLURGY

| | |
| --- | --- |
| | Developed Hi-Performance ferrous powder metallurgy process imparting wrought-like properties to powder metallurgy parts without the typical additional ancillary processing. |

FAILURE ANALYSIS

Failure Analysis examinations included/associated with:

| | |
| --- | --- |
| | Fatigue |
| | Casting (Ferrous, Aluminum and Copper) Defects |
| | Corrosion Attack (structural components, electronics, coatings, etc) |
| | Welding |
| | Solder Joints |

CHARACTERIZATION OF MATERIALS

| | |
| --- | --- |
| | Bob had put into place a Characterization Laboratory outfitted with a Philips Digital SEM w/ EDX (XL30), TEM, FFTIR, Optical Microscopy and Macro-photography, Metallographic capability, Thermal Aging capability, etc. Some have described this lab as one of the nicest Materials Labs in the Cleveland area. |

PROJECT MANAGEMENT / MARKETING

| | |
| --- | --- |
| | Sold projects to various groups at Rockwell/Rockwell Automation at a fixed targeted cost which included manpower and materials. Projects were tracked and maintained on budget and on time. Projects typically involved teams of Engineers/Scientists from across the country. These projects were well coordinated and yielded very positive results. |
Prior to starting Advanced Materials Solutions Corporation, Bob was Manager of the Corporate Materials Science Group at Rockwell Automation and his staff included PhD metallurgists and polymer scientists. He also managed virtual teams of scientists and engineers from various operations throughout the US. During his 23 years at Rockwell Automation and Reliance Electric, he had served in several roles, a few of which included Mgr., Adv. Materials Technology, Mgr., Microelectronics Grp., and Mgr. Hybrid Microelectronics Grp. Besides his management role, he was a Consulting Engineer since 1981.
Bob actively participated in the Rockwell Structural Materials Tech Panel, and the following are photographs with the space shuttle Atlantis in the background during a Tech Panel meeting held at Cape Canaveral.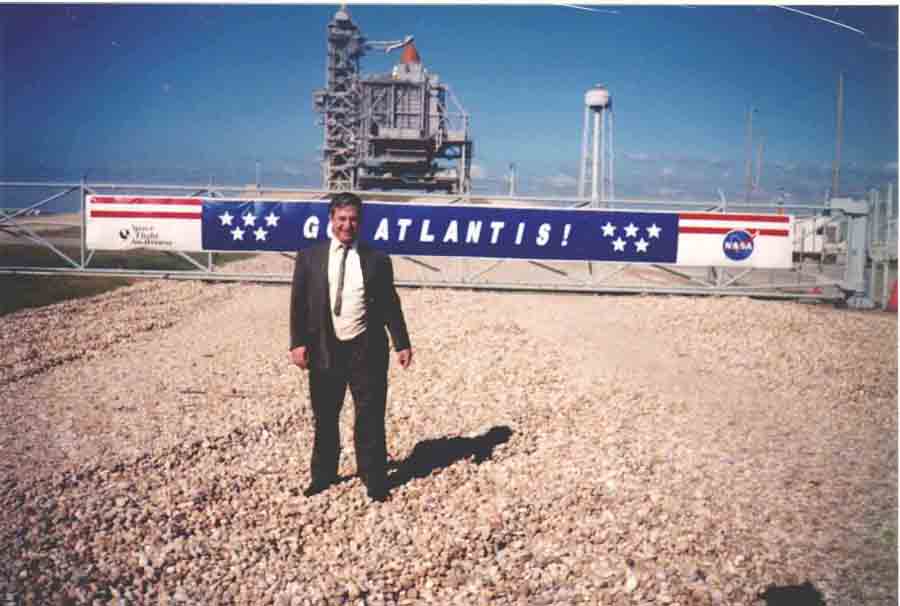 Dr. Barnard with the Atlantis in the Background Dr. Barnard under the Atlantis
To see the other shuttle pics, click here: SHUTTLE PICS